My Journey Of Archery
Meeting with Archery
   Towards the end of 2015, I went to meet the national archer Naci Yenier, whom my father met at the place where he is working, to watch his shots at the training field with a friend of mine. He was shooting at 50 meters alone in cold weather, and hitting yellow that was in the middle of the target. He was shooting so well that I told myself "Archery is a very easy sport, I guess I'll shoot them all "10" in a few months if I do."
   We started chatting after shooting. He explained the process to me because we had similar characteristics with him physically. First of all, he said that I need to strengthen my arms, use appropriate apparatus to shoot, and fix myself in the correct position on the chair with a belt to establish a good balance. When I listened to them, all I was wondering was how the bow would feel. And I curiously asked for permission to take the bow in my hand. "Take it, but don't drop it." He said. I took it with my usual trickiness and almost dropped both the bow and myself. A confrontation again!
   Then I realized that I could not sit properly in the chair, let alone taking the bow in my hand. With my habit from childhood, told again to myself: "Solve this first in your mind!" I said. I made a promise to myself that day while watching those shots at the target. I felt that this sport is suitable for me, no matter how hard it is, I would follow it. I made a promise to myself and dreamed. One day, I will shoot at those targets, and even once, I will shoot them all in yellow!
   Now I know that everything is progressing step by step. First, I researched what kind of sports archery is, what it requires, how I can progress. It was a sport that suits me both mentally and physically. Then I went to the Archery Foundation, where I watched the training. There I met instructors named Ali Vatansever and Muammer Yavuz. They told me that I could do this sport but first I had to strengthen my arms very much. I said, "I do what needs to be done, I want it!"
Beginning
   I traveled for kilometers from home to the club, and I practiced arm training for months with just one pilates tire in my hand. Meanwhile, we considered shooting positions for me. I would be patient no matter what because I was wondering what it was like to shoot arrows. Finally, at the beginning of 2016, instructor Ali said that: "Come, let's make you shoot arrows, even record your first shoot to the video, you will see what you have achieved when you look ahead." he said.
   It was so difficult to shoot with the beginner bow, despite it being the lightest; I realized again how a struggle I was in. Meanwhile, we started to think about the proper shot. I started archery with a left-hand bow as my best finger and my hope was my left-hand index finger. But I was not very successful in shooting with a left-handed bow yet I could not write in my life with my left hand, and even I could not hit the ball with my left foot while I was standing,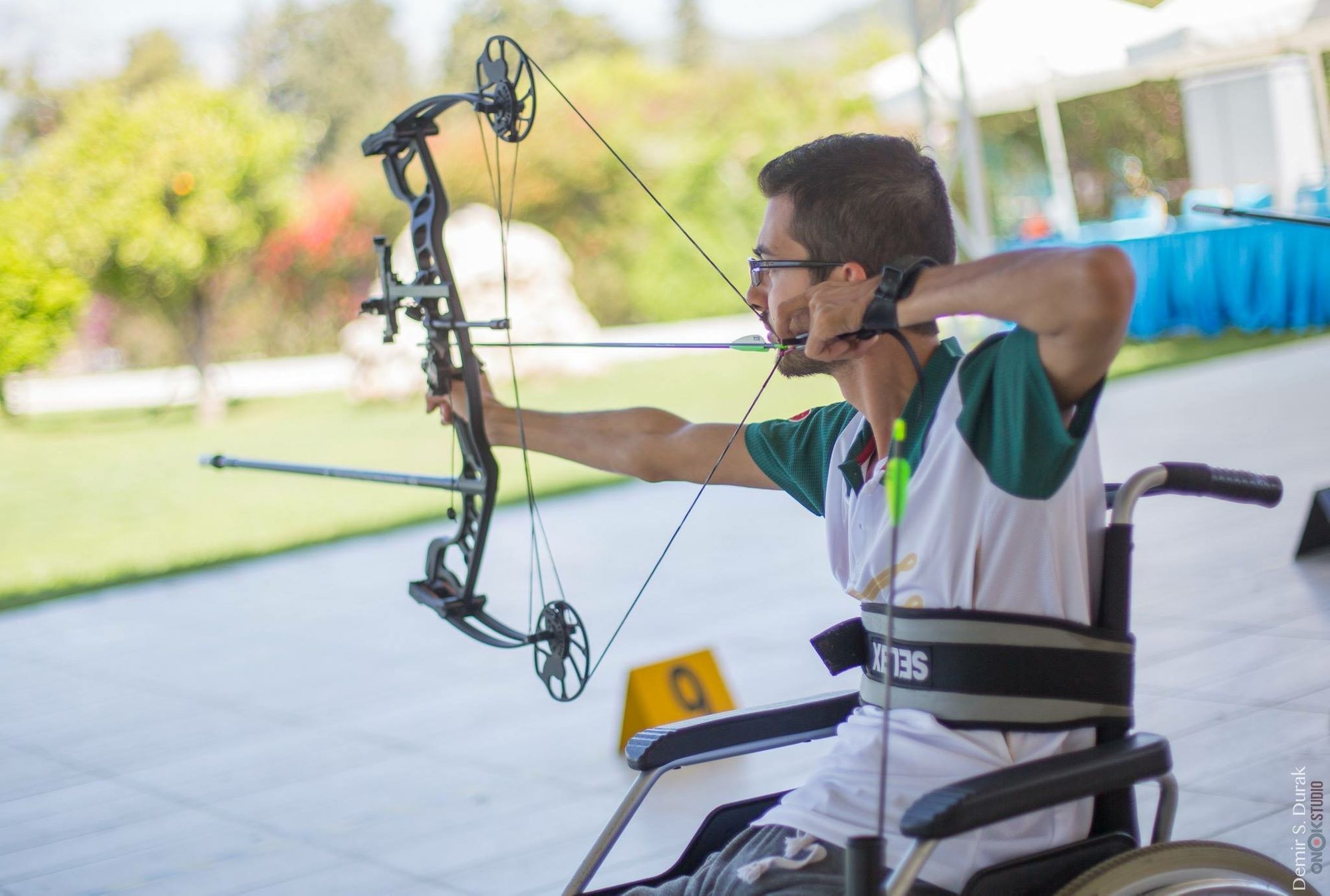 2016 was a year for me to observe, try something, fail, and pray that the arrows don't miss the target when I go 50 meters away. Since the kids who were exercising in the distance training were going to take my arrows, it meant that I would negatively affect their training if I miss an arrow. So my only wish was not to hit the target face first, but to hit the target mat!
Wheelchair Story
   By the end of 2016, I learned that following year there is a world championship in China. I was still at the beginning of the road, but I started motivating myself as to why not. I had learnt many things for that moment. First I made a list of what was missing, and without them, it was impossible for me to move forward. My biggest shortcoming was an active wheelchair.
   While I was doing archery, I continued physical therapy. I was also supporting this with strength training. The biggest expectation of my family was me walking again. So we were always very scared of the wheelchair. I had never lost hope, but I had said to myself: "Today I am 24 and I will never be 24 again in my life. I will live beautifully under any circumstances"      
   It was very unreasonable to think that being afraid of a wheelchair would prevent my hope for walking. The more I move and achieve something on my own, the stronger I will be.
   Before the accident, I had very little accumulation that I called "shroud money" that I kept for difficult times. But if I won't spend it while I was alive, if I had expected something to happen, this money had no meaning. I said I will spend it all to improve my life, to pursue my goal, and I get a wheelchair store in no time flat. While looking at the wheelchair according to my budget, the shopkeeper showed me a chair and said: "Could you sit down?". As I sat in that chair, the world changed and I started running. It felt like a transition from a patient chair to a race car. I said I will take this chair and go. The price was 2 times what I had reserved. I called a friend whom I loved so much and asked for a loan, I said I will pay as soon as possible. He said okay, if you are good, take it and I will support you. It was a Friday evening and it would take me at least 2 days to pay the money. I turned and said:
-I will take this chair and go. I will send your money to your account on Monday, do you trust me?
+ I trust you, I saw that light in your eyes.  He said.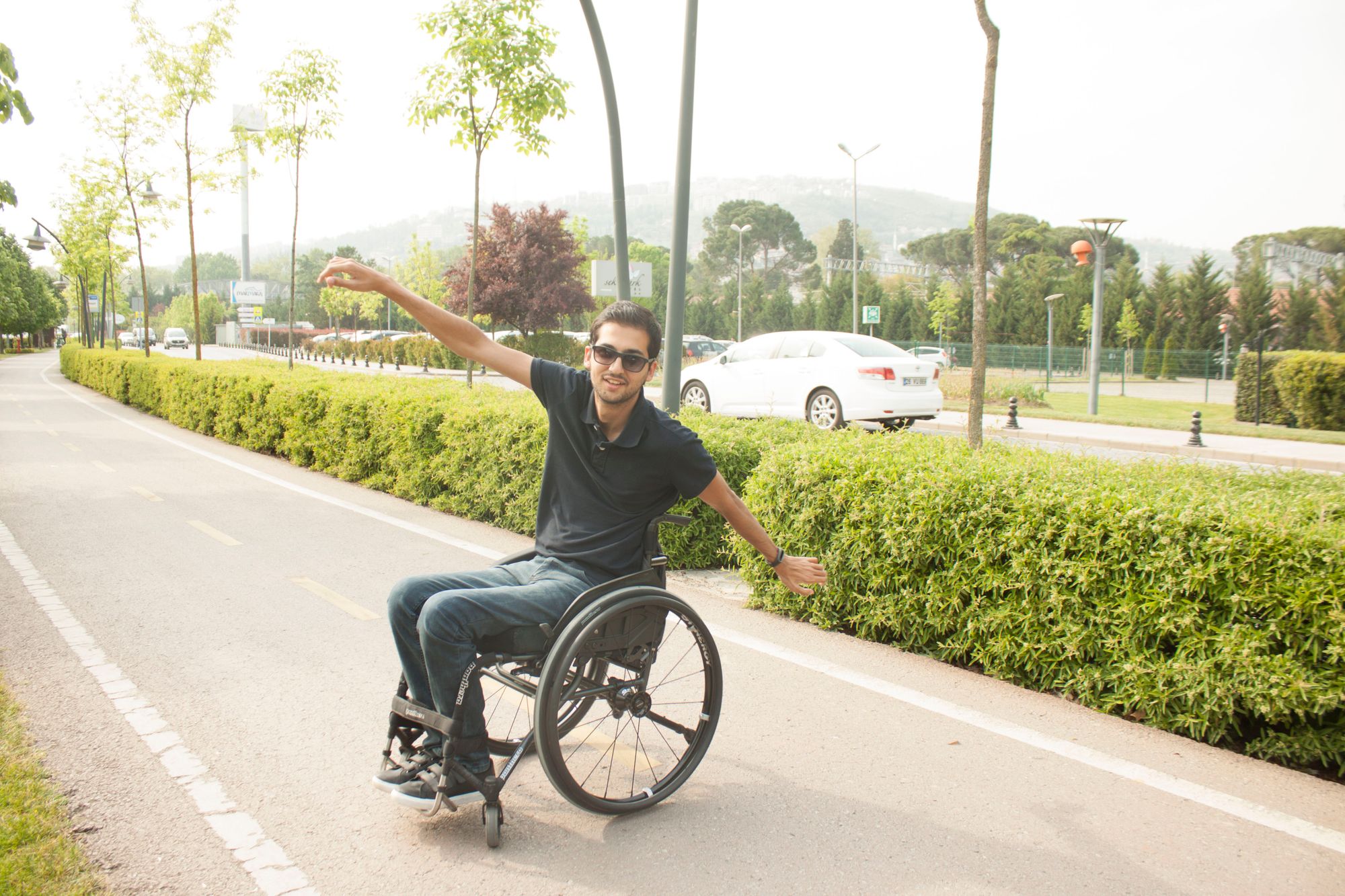 New Materials
   As I started using the chair, my self-confidence increased and I became free. But there were a few more things I had to do to achieve my archery goals. In order to be able to shoot with the right arm like everyone else, first I made a leather trigger apparatus in a shoemaker. Then I bought a second-hand bow to make better shots.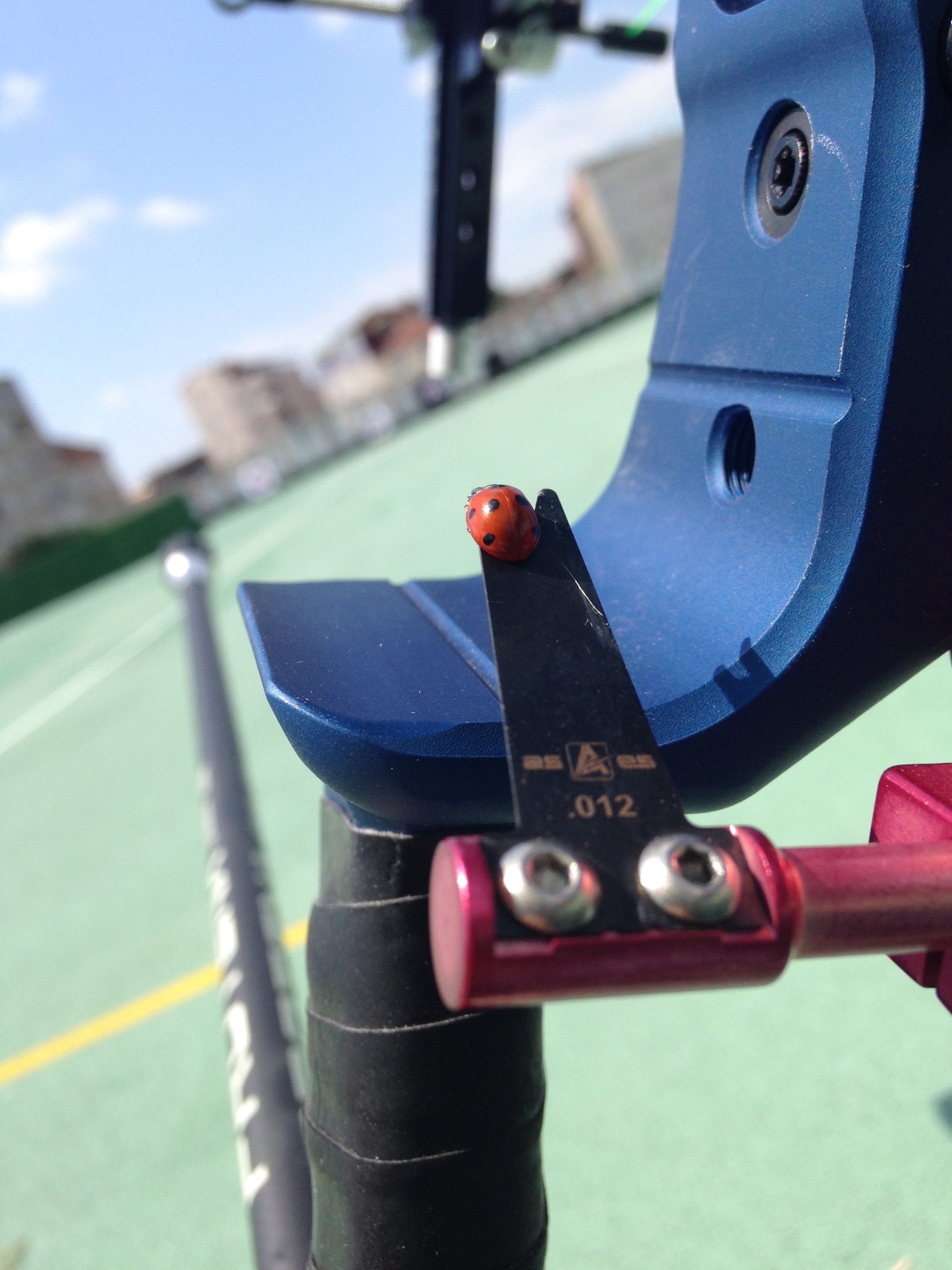 Parking Garage Training
   I was out of money now. Going to practices were very difficult and costly for me. The parking lot under the house was cut out for this. I said I'll work here. Since I had no money to target, I made a target from the television box, seat cushion and rubber, and with the help of my mother, I practised 5-6 hours a day. I worked in dark, cold, night, day uncaringly. I always felt like I was shooting in the final field while shooting there. The arrows I shot there were the same arrows that I shot here. Only the place would change. I would even say that if we become a champion, I will be happy like that while lifting the bow in the air after each training.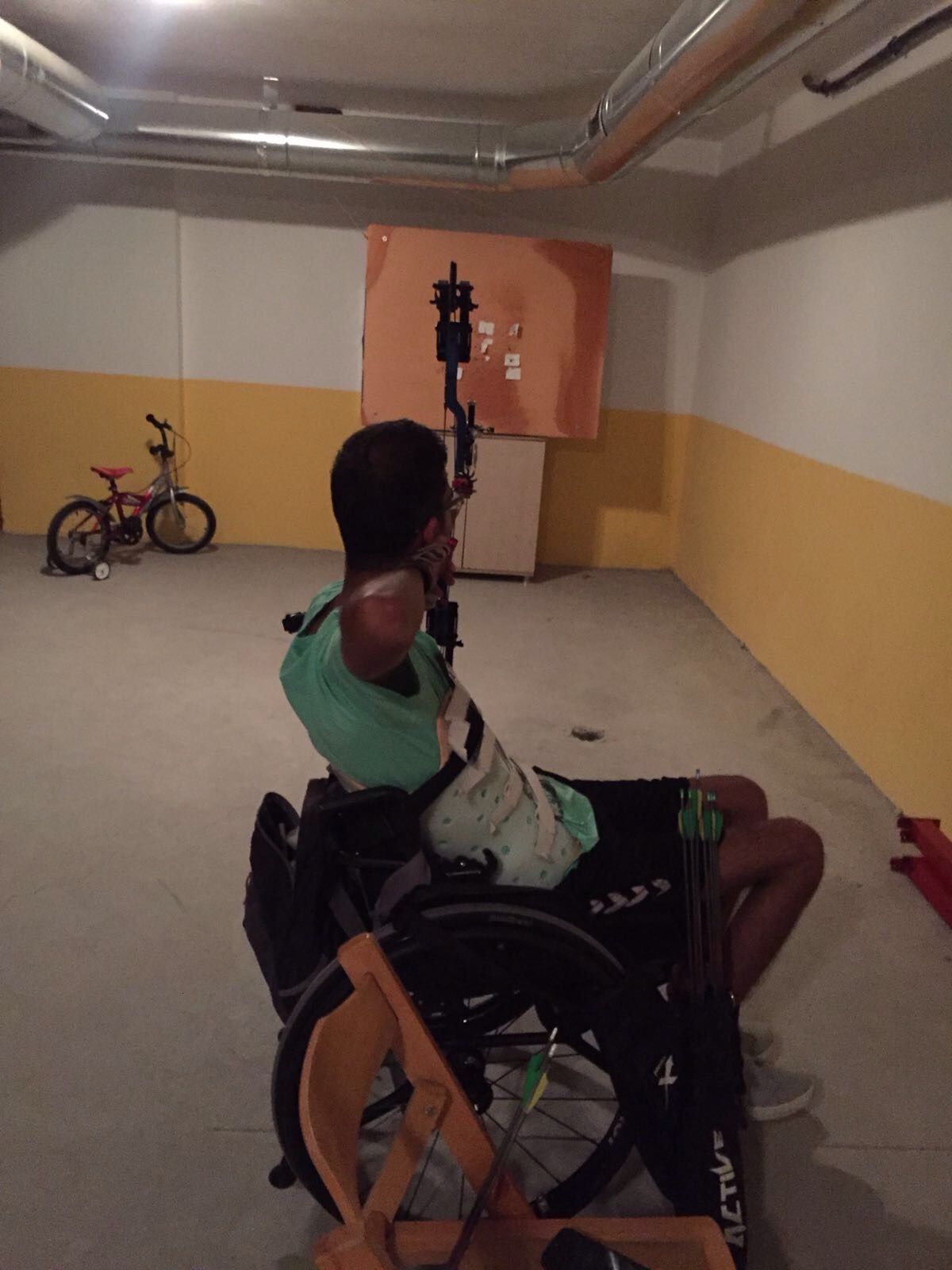 National Team Development Camp
   While continuing the training, I was invited to a development camp where the national team coaches called the athletes that they saw potential. Now my efforts were paid off. With the support of my instructors Hasan Hancı and Özcan Ediz, I made a very serious progress in the camp. And my dream came true in my first camp. The arrows I shot were all in yellow.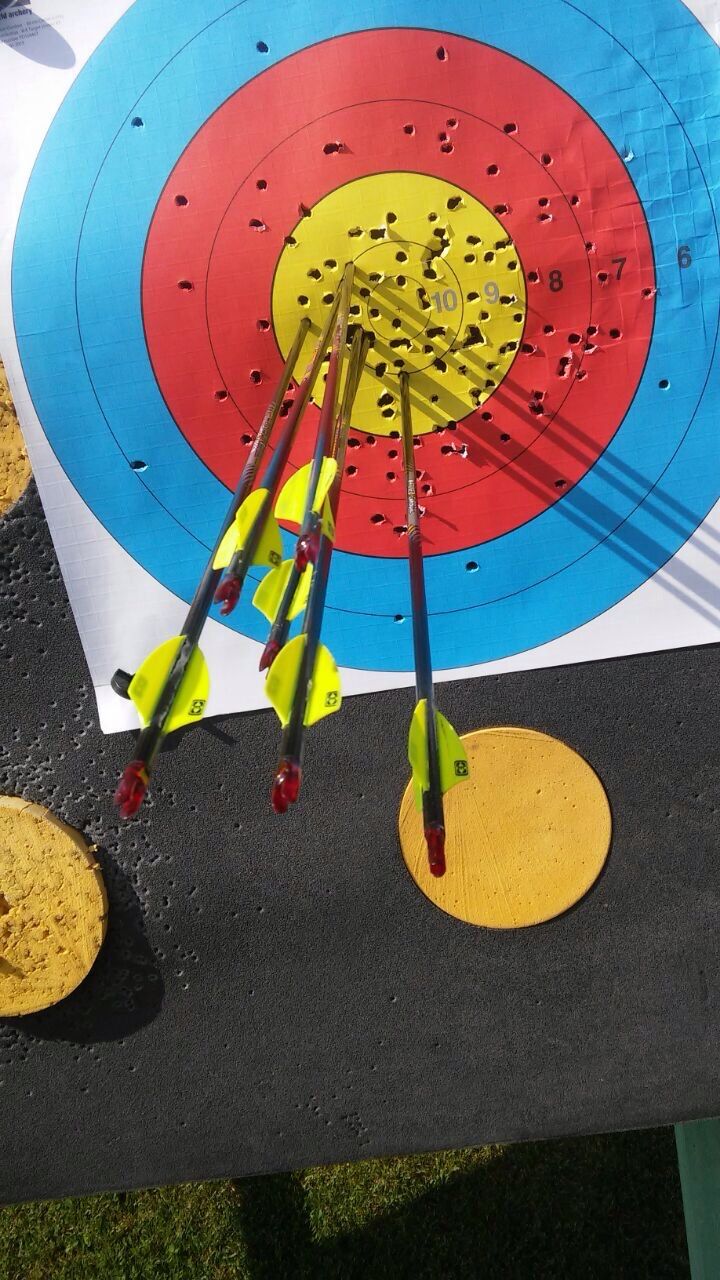 2017 World Championship - China Beijing
   I started to score world-class points in the camps. The aim was now to protect this and participate in the world championship. At the end of the auditions, I was recruited. I wore the national jersey for the first time at the Paralympic Archery World Championship in Beijing. I completed the 4th place individually. Together with my team, we broke two world records and achieved the title of world champion. In the final field which I dreamed of in the parking lot, I made the joy movement I did in the training in a totally subconscious way with the excitement of the competition.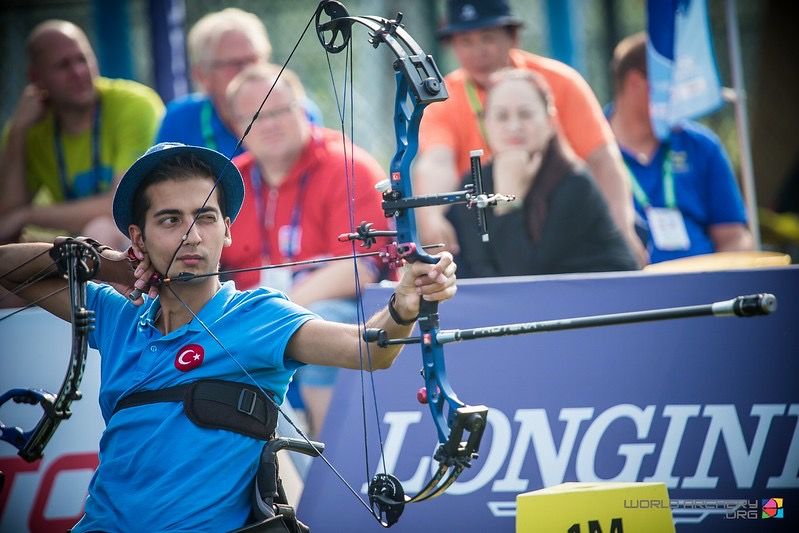 2018 European Championship - Czech Republic Plzeň
   By 2018, I started shooting better than the previous year, and I was more ready. However, 3 weeks before the European Championship my right lung was deflated in the camp. When I went to the hospital, they said that I could be discharged in 1 week if my lungs healed with the tube attached to my lung. Otherwise, I would have an operation. I asked a single question: "If I get better, can I go to the European Championship?"
They said I could go to the competition if I recovered without surgery. I said okay, that's my job. I did breathing exercises with a tube between my legs and balloons in my hand. Even when I slept at night, I was trying not to sleep because my lungs would lose their volume. My only wish was to go to that competition and not to miss this experience.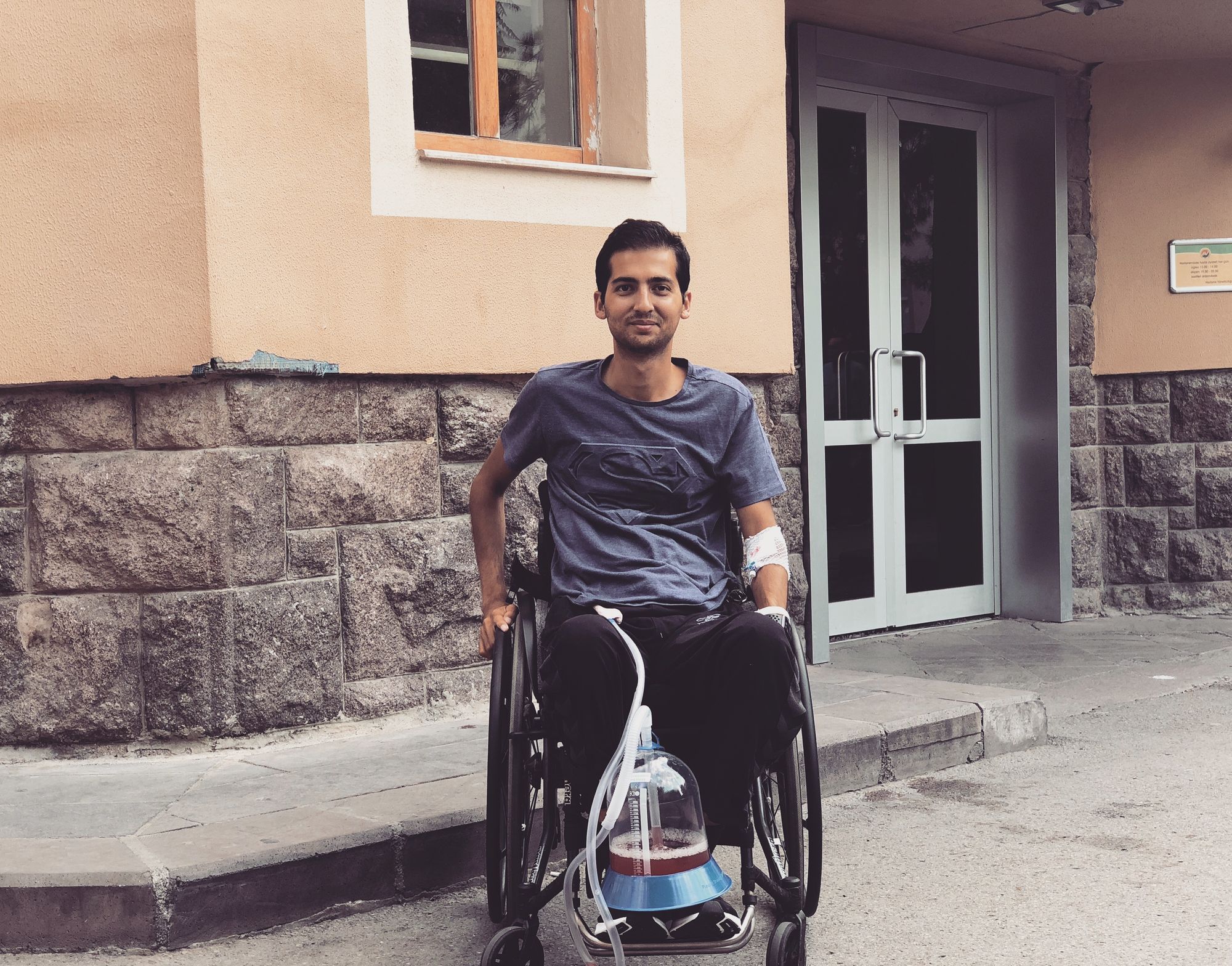 As a matter of fact, I participated in the European Championship held in the Czech Republic Plzeň despite incomplete training and completed the 5th place individually and 1st place with my team.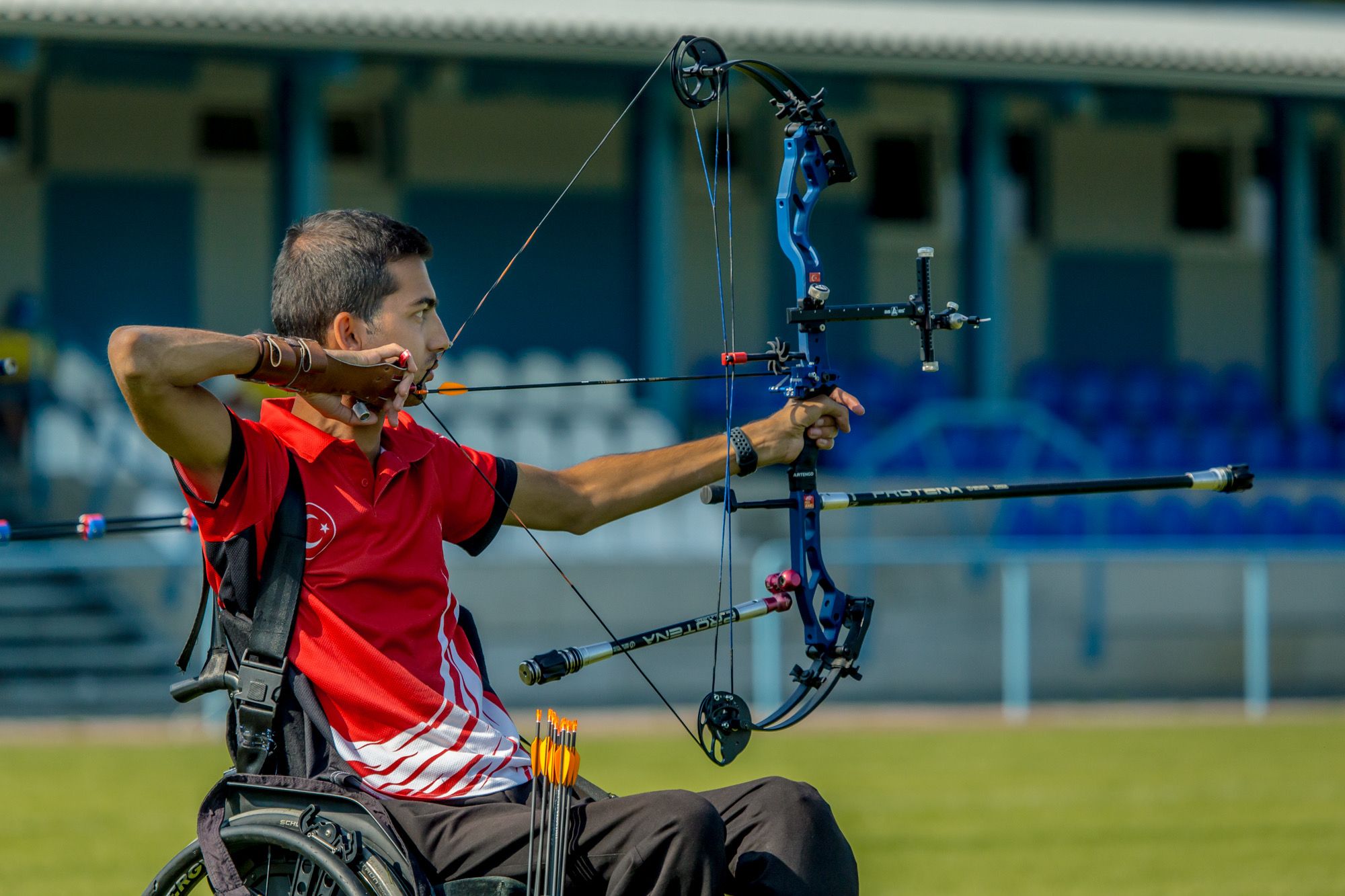 2019 European Cup - Italy Olbia
   I entered 2019 with a more professional spring. I was shooting better with the new bow and was even more ready. I was stronger with the extra strength training I did. I was a better archer now with my points, experiences and achievements. Everyone was expecting great success from me. In May, I was in the squad again at the Paralympic Archery European Cup tournament in Olbia, Sardinia, Italy.
   The island famous for its wind and this was the biggest handicap. Until the final, the shots had passed in a relatively calm atmosphere. I won all my matches and went to the finals both individually and in the team. We became the champion with a new record by developing our own world record in qualifying shots in the team. In the individual final, where I shoot in windy weather, I became the champion with my struggle until the last arrow. My targeting for 20 seconds and resistance to the last arrow had brought me this championship.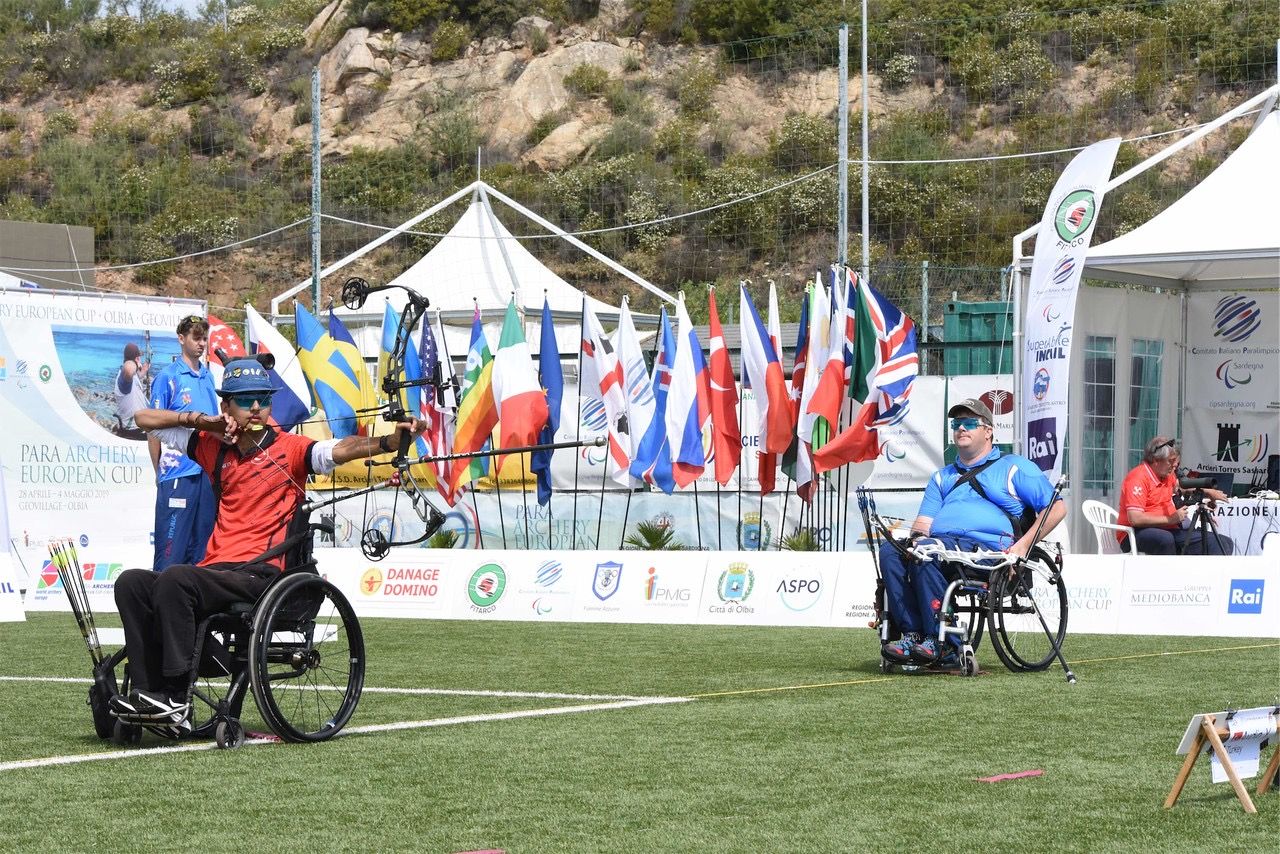 2019 World Championship - Netherlands' 's-Hertogenbosch
   We broke the new world record after the ranking shots in the world championship that we attended with the last world champion epaulette. As a result of the qualifiers, we would rise to the final and shoot at the private field at 's-Hertogenbosch square. This was one of the best parts of the competition for me. We won our second world title by winning the match with a difference of 1 point in the head-to-head match. The interview I gave to the World Archery microphones at the end of the match was one of the best experiences for me.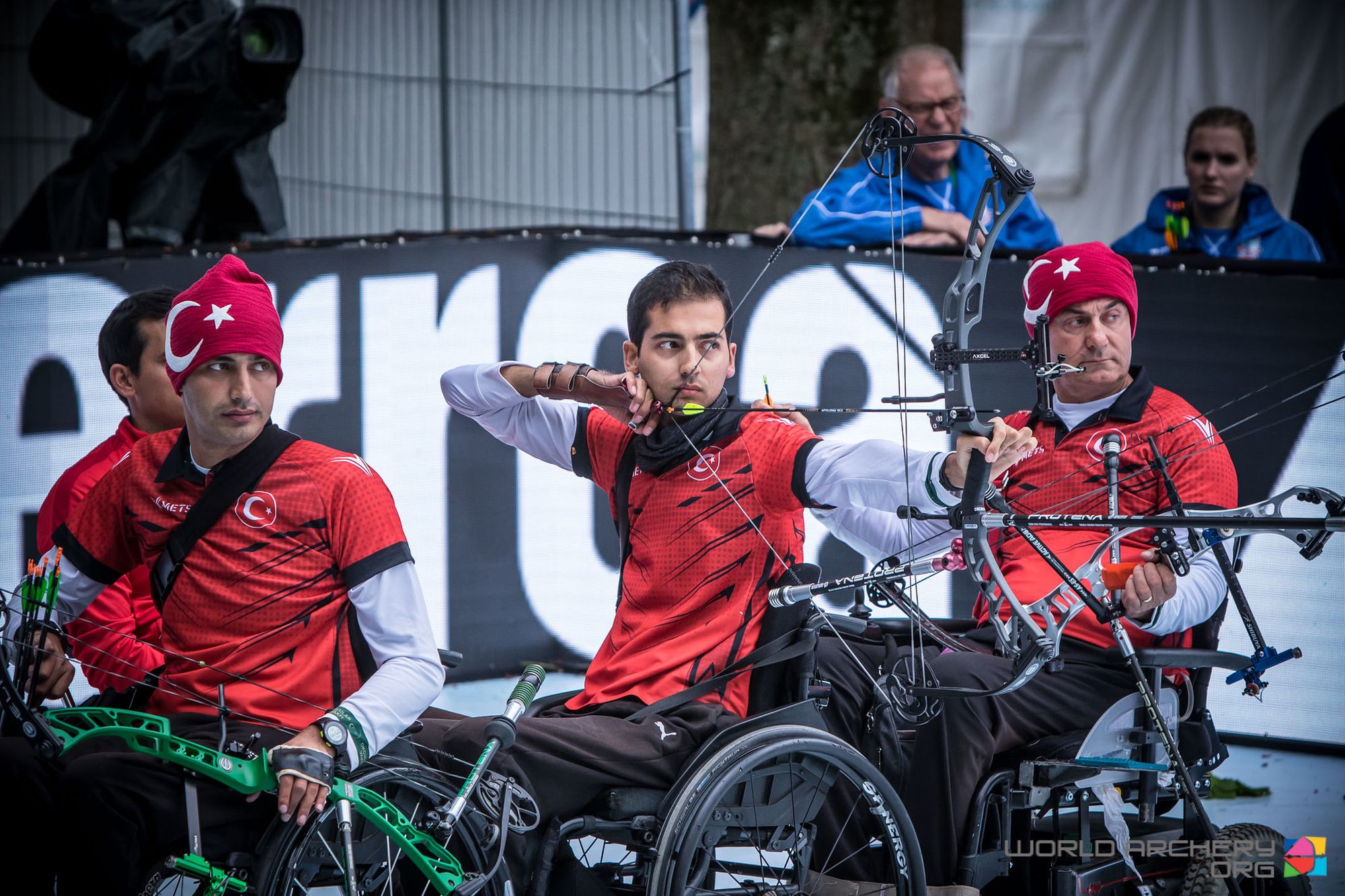 My Archery Journey
   I had the pride of keeping my promise to myself shortly after the accident I had in 2013, starting a sport I never knew when I couldn't even ride a wheelchair, achieving success by wearing a national jersey and inspiring people. After my process, I always set up the following sentences:
   10% of life is what happens to you and 90% how you react to it. And I know that in this world there are not only physical barriers but also courage barriers. I dream of a future where we achieve things we don't dare to do rather than we are not able to do. Use whatever you have. Follow whatever you can and aim for the best you can.
Continuation of the Journey
   As an athlete who thinks that he is at the very beginning of the road, I continue to work to carry this story to better places. I am currently in the 3rd place in the individual world ranking. My biggest goal is participating in Tokyo 2020 Paralympic Games to develop this and win medals for myself and for my country.
   While trying to achieve these goals, I want to be a light to new athletes and to be role models for all people. In the future, being in a position that gives direction to sports in my country is also among my biggest goals.
   I hope I was able to touch you with my story, struggles and accomplishments. Because my biggest medal is touching people's lives.
   Stay with love.